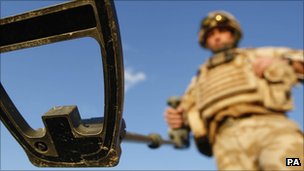 And now the dangerous work of the teams who search for the Taliban's hidden bombs in Afghanistan has been formally recognised with a new search badge, given to some 250 of the men and women recently returned from their tour of Helmand.
Amongst those receiving the badge was Capt Luke Sinnott, 31, one of the Royal Engineer search advisors who lost both of his legs after a bomb exploded beneath him.
"On the day I was injured, we were working in an area known for shootings," he said.
"We also knew it was saturated with IEDs and it was very difficult for the locals and international forces to move around.
"On the day I was blown up, I'd elected to go forward to deal with the device, to keep the guys safe. It was on my third walk down the route that a device exploded."
'Going to lose'
The explosion was sudden and devastating.
"Everything seems great and fine and then everything goes black.
"You don't feel pain straight away – it's more the shock, as though someone has punched you on the face."
He added: "Because of the size of some of the charges, when there's an explosion it always feels as if it's on top of you, even if it's 20 yards away, but this time it was me."
He says the searchers do a vital job.
"Search is one of the areas we've had the most injuries – Afghans killed as well as Isaf (Nato-led International Security Assistance Force) forces; and there's a real attrition rate from these IEDs.
"That's how the insurgents are trying to win the fight against us by laying IEDs all around, and by making the locals feel that we are going to lose."
With him when he was injured was L/Cpl Robert Cork, known as Corkie, who was also receiving his badge.
"The searcher's role is to clear a route for the Army, searching for the IEDs. There's no hiding it – it's definitely one of the hardest and most dangerous jobs out in Afghanistan at the moment.
"We all passed our search course, a six week course, and then we get into a team which trains together for a year or so before we deploy."
'Persistent courage'
The search teams are out on the ground in Helmand Province every day of the year searching for IEDs, with the Taliban planting an average of 1,000 a month. During their tour, the Counter-IED Taskforce dealt with around 1,000 devices.
The badge was officially launched at a parade at Carver Barracks in Wimbish, the home of search specialists 33 Engineer Regiment (EOD) and 101 Engineer Regiment (EOD).
Oval in design, the badge carries the word "search" at its base with an eye and flame above it to represent the work.
The commanding officer of 8 Force Engineer Brigade, Brig Alistair Dickinson, said: "This badge recognises the work of the High Assurance Search Teams and their advisors.
"To do this all day, every day, for six months demands a certain kind of mettle – a persistent courage – and it is right that their commitment to this dangerous work is recognised."
Warrant Officer Rod Jones, a bomb disposal expert from the Royal Logistic Corps who was re-united with some of his searcher comrades at the ceremony, says their tour of Afghanistan was one of the toughest he had done in his eight years as a high threat operator.
"Before I went, I had been in Iraq twice, and Northern Ireland, and dealt with five IEDs.
"But when I went to Helmand within the first three months I'd already dealt with 23 IEDs."
His wife Jane was with him at the service. They married the summer before he deployed, and she spent many months worrying about him.
"I know he is trained very well at the job he loves, so that was some reassurance. So when he goes on tour, you try not to worry too much," she said.
"This was the first operational tour that I'd experienced with Rod, so I didn't know what to expect when he went away but you do have the 'what if' scenarios in your head, but you have to put it away and focus on him coming home at the end of the tour, so that gets you through it."
For Rod, too, the separation was hard.
"I knew I had done Iraq and Northern Ireland, and could rely on the experience I gained there, but I do feel nervous about the people I leave behind, especially my family and my wife.
"I think in her heart of hearts, she hopes this is the last tour I go on.
"But everyone who joins the Army realises it's part of the job description that you may have to risk your life and you may not come back whole or without injury. But you have to put it to the back of your mind. "
The Bomb Squad, a documentary on the soldiers who search for roadside bombs, will be broadcast on BBC One on 13 September at 22:35 BST except in Scotland and Wales.